Enter the bathroom.

The one that will magically get renovated during my trip to Florida in 2 1/2 weeks.

The one the children of my womb use.
I spy something strange.
And it's not the paint brush oddly out of place with the toothbrushes.
And no there's not a nooth grush on the toothbrush.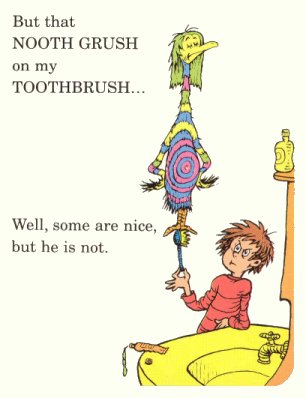 From Dr. Seuss' There's a Wocket in my Pocket.
Go check it out and read it asap.
I think there is a sucker in that cup. Look again.
Someone "put up" their sucker in here and obviously forgot it.

Please leave comments explaining this to me....