-2.4 all to glory of God, I haven't done this alone
I have m & m's, chocolate covered espresso beans and Reeces Cups in my pantry. They've been there over a month. I can't tell you what a miracle this is.
I attended a conference with friends this weekend. I did splurge a little. I had a vegetable baguette that was amazing (portabello mushrooms) and tried sushi for the first time at Central Market. You heard me, and
please read this
if you haven't ever heard of this place. I had almond and apricot chicken salad, fruit and chicken con chile soup and dolmas. A Greek appetizer my Greek sister in law insist I try. It wasn't too bad, definitely something you grow up eating, just look at them....do they look appealing?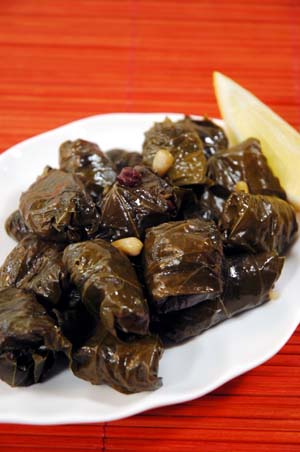 All in moderation. I skipped the starbucks run and fries at McDonald's. I saved the chips and chocolate I was given at the exhibits for the kids.
I am in this for the long haul. I don't want to ever have to loose this much weight again. In real life fun times happen. Food was meant to be consumed, enjoyed, shared. I can't wait to share with you what I learned at this conference about the table! Some food is better for you than other food. Be aware. Be smart. You can't have it all.
Thankful,
Lori